Has your little grownup ever spent your money without you knowing?
Ever wondered how you'd explain crypto to a kid?
Know someone with kids who'd love to learn more about money. Read on!
The world of money is changing faster than our kids are growing up. And with Covid accelerating the transition to a cashless society, it's becoming harder than ever for our little grownups to build financial capability.
"Kid's experience with money is very different to what it was fifteen, ten or even five years ago. Parents are struggling to help their children learn and practice good money habits as they are bombarded with in-app purchases, gaming related offers and crafted enticements on a daily basis."
Yish Koh, Managing Director, Kit
Enter Kit – a smart money sidekick for young people.
Kit is a new 'earning-and-learning' money app for kids available in Beta on iOS. With their own Kit Account and prepaid card, your little grownups can manage their own earning, saving, and spending. 
Kids also learn best by in-the-moment experience. Through nifty nudges and kid-friendly explainers, Kit will help your kids master money concepts and adopt positive financial behaviours. And in Boss mode, you'll have access to customisable controls, such as spend limits, merchant blocks, and card and pin protection, which can be tailored to each child in the family. 
Our mission
Our mission is to improve the financial capability of young people in Australia. Measuring financial capability is a difficult task, but we think our team is up to the challenge.
"They say kids grow up fast, but the world of money and commerce is changing faster so Kit's designed to ensure kids and their parents can continue to keep up. We take an evidence-based approach to money lessons and the impact of Kit will be measured in much more than just pocket money."
Yish Koh, Managing Director of Kit
In a recent study with YouGov, we found 72% of parents are concerned about the influence of online games on their children's attitudes to money, and almost half (48%) avoid discussing money with their children. 
As digital spending has become easier, almost half (49%) of parents claim their children have spent their money without their knowledge or permission. These parents say kids have spent an average of $179.31 – with 22% racking up between $200 and $499 over the years.  Thirty-three per cent of parents say their children have taken money from their wallet but 41% say their kids have used their parent's credit card or pre-supplied bank details for online shopping and 37% say the stolen funds have been spent on in-game credits. Check out more insights in the infographic below.
"It's so important we encourage healthy money conversations. That's why we've made the Kit app highly interactive.  Our in-app character is there as much to entertain, as educate, with fun facts and even jokes to give kids a laugh and to encourage them to engage with their parents."
Yish Koh, Managing Director of Kit
We're still building 
Kit Beta is available on Apple iOS devices and we have plans to expand to Android soon. 
"Beta is about testing our experience with customers, measuring our impact and continuing to involve kids and their parents and carers as we develop the Kit app. We're looking to launch to the broader public later in 2022."  
Yish Koh, Managing Director, Kit
Join our waitlist or be one of the first 5,000 people in Australia to test the app for free at www.heykit.com.au.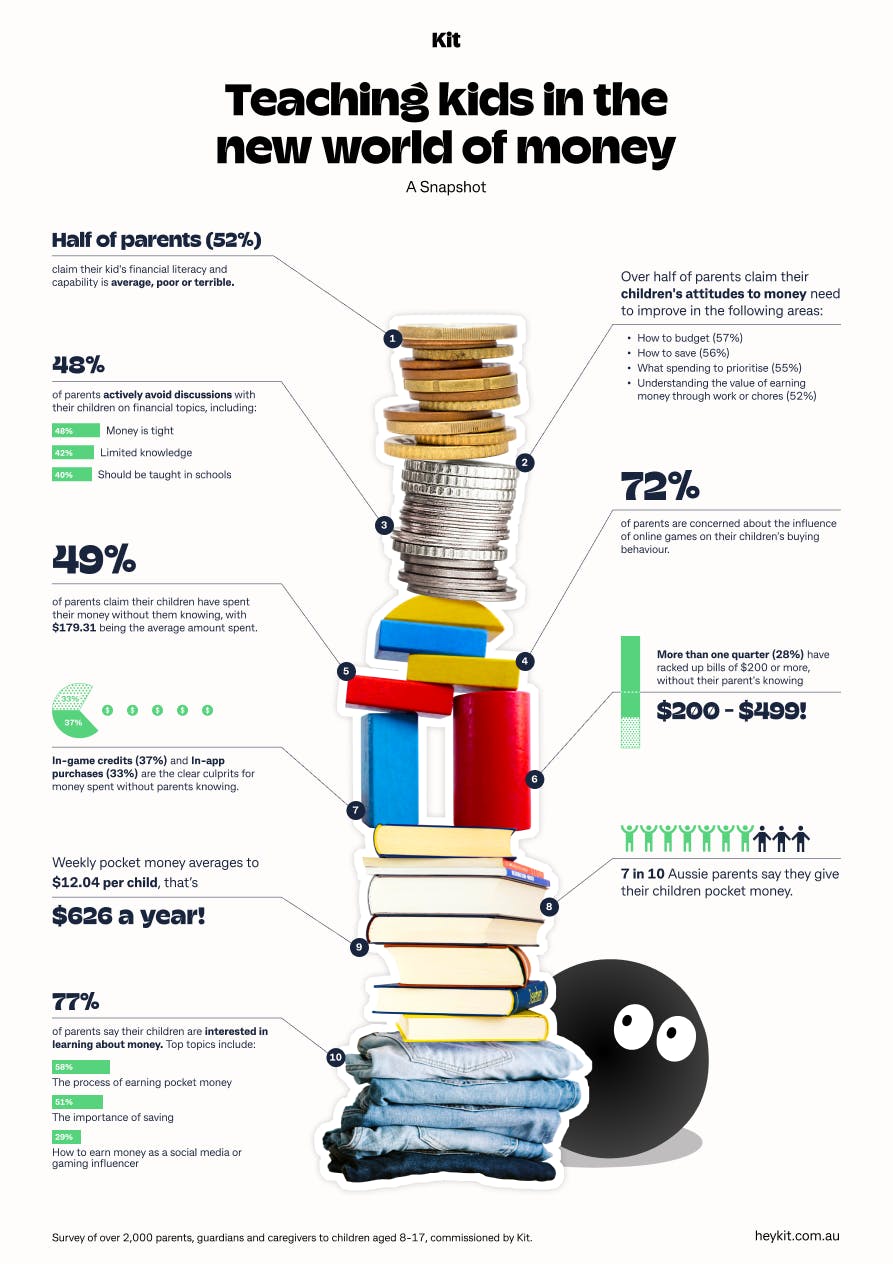 ---
Stay in the loop!